Onboarding starting kit — delivering wow to new team members
Maybe they've been waiting for a while, or maybe it was really quick, nevertheless, today is the first day on the new job and it's pretty exciting! For us too of course, so we put a lot of thought into what kind of impression we want to make on that important first day, and needless to say, we want that impression to be a great one. Because a new job is a big deal for everyone and should be celebrated! We want the first day to really spark joy ✨, and making sure the new team member has a great starting kit waiting for them is a big part of that.
We start out by sending a digital onboarding packet two weeks in advance with some practical to-do's; like setting up your email and reading up on our informative handbook. Ok, so maybe that part doesn't seem to spark joy or raise the onboarding temperature, but oh let me tell you, it most definitely does because of how smooth the whole operation is! We send out invitations to various sites we use, and one site in particular, making a huge difference, is our own pride and joy; Smart Portal! 
It's the first platform that fully automates the purchasing, managing, and support of an organization's hardware and software packages in a truly easy no-fuss way. Yes, I'm biased, but for someone like me who works with the onboarding of team members on a regular basis, it really makes my life a whole lot easier, letting me focus on other parts of the process that can't (or shouldn't) be automated in the same way. Efficiency at its best!
When handling the onboarding of a new colleague, I simply add their info in Smart Portal, and assign them the appropriate policy and starting kit for their role. The new team member gets a link to view and customize their starting kit. If they want to go wild with a yellow phone, instead of standard corporate grey, they can. And if they want to upgrade beyond the company policy that's easy-peasy.
Their brand new fancy setup magically appears on their desk on their first day. With some assistance of course from the People Experience Fairy. Digitalization, what a thing! 
The desk is a great spot to make new team members instantly feel welcome, creating a warm and friendly feeling. It's their own personal micro-habitat away from home. As such, on that important first day, it should be filled with shiny things like great hardware, some nice Universal Avenue swag we've created, and then icing on the cake, glossy balloons!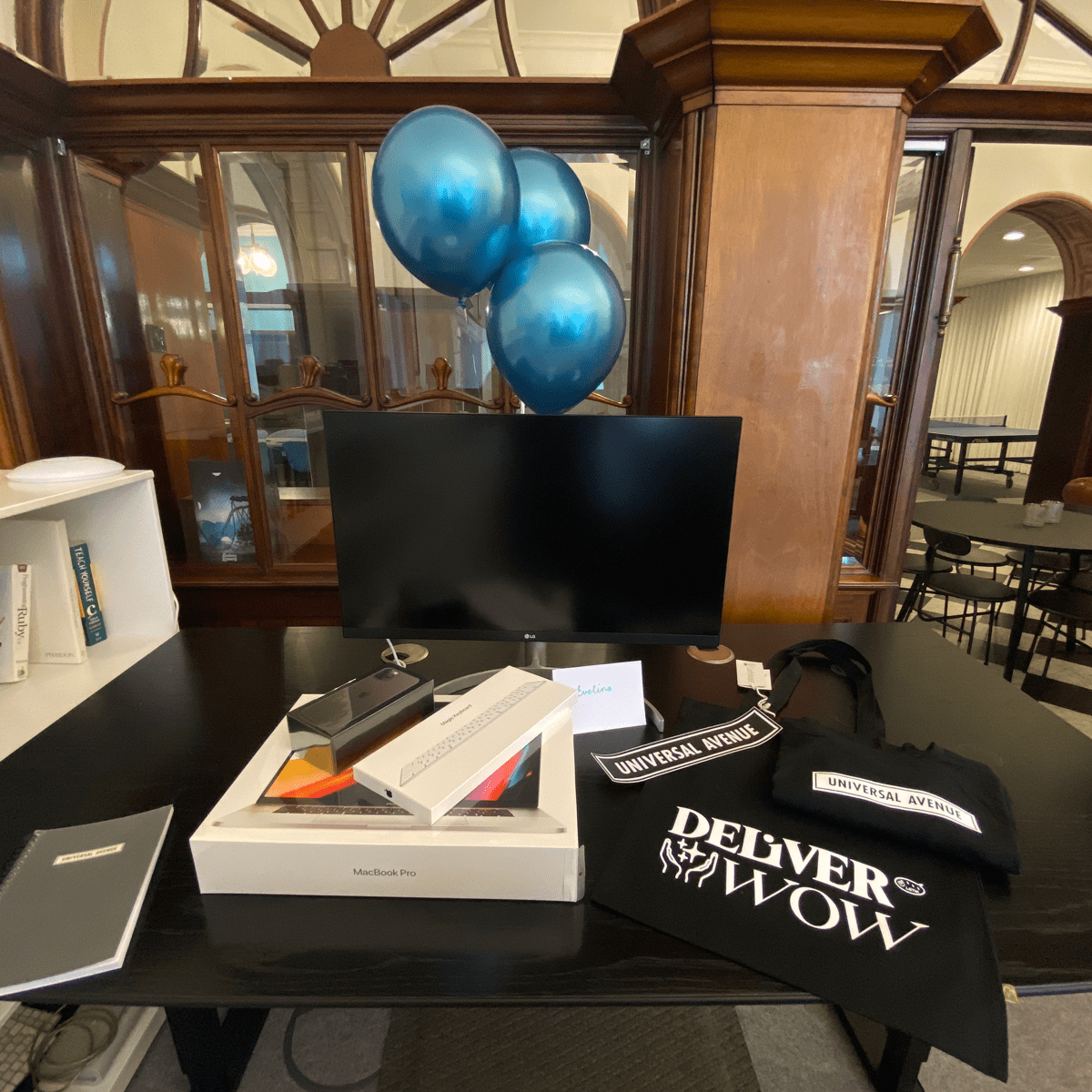 Just look at that beauty! ✨